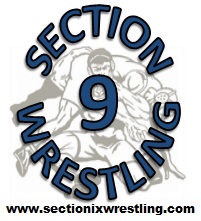 Section 9 had a very busy schedule this weekend!  Results are posted as soon as they are received. Special congratulations to Middletown's Justin Morales for recording his 100th career win and also to Monroe Woodbury's Marco Vespa who now has 100 career pins!!!
Saturday 12/8
Port Jervis, Warwick, Valley Central, Monticello and Goshen @ The Tri-State Holiday Tournament at Port Jervis
Team Standings
1st Place: Warwick 4-0
2nd Place: Valley Central 3-1
3rd Place: Port Jervis 2-2
4th Place: Goshen 1-3
5th Place: Monticello 0-4
Team Scores
Warwick 42 Port Jervis 30     Goshen 45 Monticello 9
Port Jervis 47 Goshen 29        Warwick 42 Valley Central 40
Port Jervis 60 Monticello 12   Valley Central 60 Goshen 24
Warwick 60 Goshen 15           Warwick 72 Monticello 10
Valley Central 66 Monticello 18
Valley Central 45 Port Jervis 40
Cornwall, Rondout Valley @ Cornwall Dragon Duals
Team standings:
1st – Columbia – 4-0
2nd – Pearl River – 3-1
3rd – Cornwall 2-2
4th – Horace Greeley 1-3
5th – Rondout Valley -04
The Most Outstanding Wrestler – Jake Edwards – 160 lbs – Columbia
Going 4-0 for Cornwall were: Kevin Rourke (99), Gabe Giumarra (113), Luke Wojehowski (195), and Will Leonard (220).
Cornwall 69 Rondout Valley 15  Pearl River 40 Cornwall 39
Horace Greeley 54 Rondout Valley 28
Columbia 70 Rondout Valley 14
Pearl River 66 Rondout Valley 22
Columbia 54 Cornwall 31    Cornwall 67 Horace Greeley 18
Minisink Valley, Monroe Woodbury, and Washingtonville @ The Wrangle on the Plains hosted by Shenendehowa
Section 9 Results:
99A: Richie Toledo (MW, 1st)
99B: Jordan Brown (MW, 1st)
106A: Zack Ryder (Minisink, 2nd)
106B: Dylan Winters (MW, 1st)
113A: Joe Habert (Minisink, 2nd); Grant Barczak (MW, 7th)
120A: Nick Picariello (Minisink, 5th); Jack Kohrs (MW, 8th); Santos Acasio (MW, 9th)
126A: Marco Vespa (MW, 1st); Jordan Suarez (Minisink, 2nd)
132A: Tommy Maddox (Washingtonville, 3rd)
132B: Brian Lombardi (Minisink, 3rd)
138A: Sean Savacool (Minisink, 3rd); Rob Estevez (MW, 4th)
145A: Joe McGinty (MW, 1st); Niick Albornoz (Minisink, 4th)
145B: Jaccob Gonzalez (Minisink, 1st); Mike Zrelak (MW, 4th)
160B: Chris McLaughlin (Minisink, 1st)
160C: Ethan Gallo (Minisink, 1st)
170B: Steve Felice (MW, 1st)
182A: Mike Paravati (MW, 4th)
182B: Scott Geyson (Minisink, 1st)
195A: Carson Henry (Minisink, 3rd)
220A: Tyler Castro (Minisink, 4th)
285A: Preston Havison (MW, 3rd); Adam Fenner (Minisink, 4th)
Middletown, Highland, Wallkill, Kingston, and New Paltz @ The Patriot Invitational
Middletown won the team title and were led by champions Justin Morales at 106, Destin Morano at 152, Joe Velazquez at 160 and Armel Duke at 220. Justin Morales become Middletown's 15th wrestler to earn 100 career wins! Other top 3 placers for Middletown included Manny Saenz (3rd @ 99), Moises Diaz (2nd @ 120), Josh Sam (2nd @132), Elijah Babb (2nd @ 195), and Stephan Monchery (3rd @ 285). Wallkill came in 3rd place in the team race and had 5 wrestlers place in the top 3 including 113 pound champion Matt Davis! The other top 3 finishers for the Panthers were Kraig Thomas (2nd @ 152), Justin Lyle (2nd @ 170), Jacob Lyle (3rd @ 145), and Aiden Hathaway (3rd @ 160). Highland also did well at the Patriot with four top 3 finishers in Peter Bender (2nd @ 106), Jonathan Perez (2nd @ 220), Chris Gatto (3rd @ 113), and Mat Malherio (3rd @ 138)!

Newburgh Free Academy, Pine Bush @ East Ramapo Titan Duals
NFA 72 Tappan Zee 12             NFA 66 Nanuet 15
NFA 72 East Ramapo 15          NFA 51 Pine Bush 30
Pine Bush 48 E. Ramapo 36    Pine Bush 53 Nanuet 27
Pine Bush 66 Nyack 22            Pine Bush 48 Tappan Zee 39
Burke, Chester @ Mamaroneck Tiger Tournament
Chester had 4 wrestlers place at the Mamaroneck Tournament! Liam Bullock took 2nd at 120, Steven Bradford finished 5th at 170, Dylan Bullock took 4th at 195, and Devin McGovern finished 6th at 285.  Burke's Andrew Shaw finished in 4th place at 170!